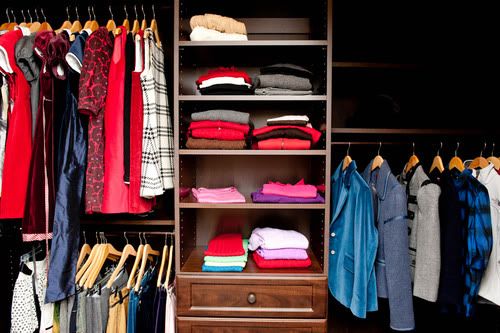 What's in your closet? Do you wear it all? Does your closet make your life easier? As in, is it easy for you to pick out a stylish outfit daily without any problems? If you answered, NO! It's probably because you've never organized or thought about the basic wardrobe staples. Keep reading and I will give you lots of tips on how to build your wardrobe as well as give you a detailed checklist.
Let's get started! The key pieces that you need in your wardrobe are "trend proof". That is a very important statement to remember. The items you build your wardrobe with should not be trendy items. These items should be classic and will never go out of style. Another key point is that accessories will take these pieces to new levels. If you browse the list you may think there are barely any items on it. But in reality having the right staples will allow you to create more than 50 looks! You can definitely expand your style if you have all the right pieces.
When buying your essentials think of them as being the beginning of a sandwich. You have to start with bread, right!?! And then you gradually add layers of mustard or mayo, meat, cheese, lettuce, tomato, and some pepper! Mmmm...that made me hungry. Lol. But for real- your basic items are the bread, and then each item you add bring the entire look together such as your jewelry, bags, shoes, and other trendy items. A good point to remember is that you can't have a delicious sandwich without the bread!
When it comes to style there is no such thing as being greedy. Having the below items is very important and it will make your fashion life so much easier...but also remember you can have several pieces of each item that is listed. For example, having a basic stretch fabric tee is important. Having a few of them is even better; for example a tee in black, white, stripes, and/or blue. Another key to remember is you can have several styles with each items as well. When it comes to tees you can play with the fit, sleeve length, and also the neckline. They do not and should not be identical. Another detail to remember is to start out with neutral colors and slowly add color. Your basic pieces will most likely be black, white, tan, or brown...but some will add color for example, a red trench coat is acceptable as a basic staple. It's 2012 and the basics have stepped up a bit in style. Normally a trench would only be suggested in tan or black but not NOW! Times have changed. Anywhoo...here are all the items you need in your closet.
Click the thumbnails to see where you can purchase each item.
There is a
checklist
with all the wardrobe essentials after the jump.
Wardrobe Basics Checklist
You can print the
checklist
out and take it with you while shopping or to go through your closet and figure out what you already have. This list will help you tremendously. Enjoy and thanks for reading!
CLICK HERE
TO READ PART 2 OF THIS POST.